Forklift Refresher Course

SS573:2012(3.16b) specifies that all forklift operators must attend refresher training every 3 years to be deemed as an authorised operator.
This course provides candidates with the required WSH updates based on the SS 573 code of practice for powered counter-balanced forklift,and the industrial standard on forklift operations.
For further details on the refresher requirements, refer to the Ministry of Manpower's information page:
https://www.mom.gov.sg/faq/licensing/how-often-do-i-have-to-send-my-forklift-operators-for-refresher-training
The application of knowledge,skills and attributes in operating forklift (below 5 tons) correctly, efficiently and safely under various environmental conditions with different types of material loads
Join us for this forklift refresher course and update your forklift driving skills.
Many of our candidates who had passed the WSQ forklift course had joined us for yearly refresher training to maintain and improve their forklift driving skills.
Our trainers will guide you to a more holistic learning and value added safety and technical skills that you can bring back to your company and contribute positively at work.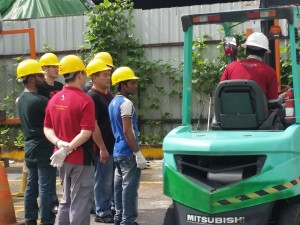 Target Audience: WSQ Certified Forklift Operators from any industry
Forklift Refresher Course (4 hour course)
You can attend this Forklift refresher course only if you have a valid WSQ Forklift licence OR previous Forklift Refresher certificate

 

For customers with the legacy Forklift Driver Training Course certificate
(not WSQ Operate Forklift certificate)

We can only admit you in the refresher course if you have a refresher certificate (from any centre/in-house)

For customers without any refresher certificate, please attend the WSQ Operate Forklift course.
Course Outline:
Workplace safety and health Revision

Techniques and requirements for operations

First parade checks

Load chart revision

Centre of gravity and Stability Triangle

Driving practice

Address and eliminate bad driving habits
Candidates are reminded to bring their own safety shoes for practical training sessions for hygiene purposes.