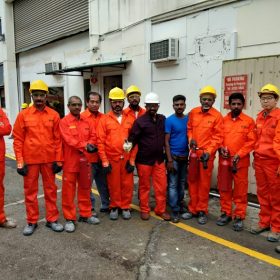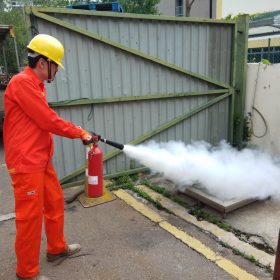 FWTC training course is for participant who need to become a Fire Watchmen.
All work activities declared under hot works require at least one appointed trained fire watchman when applying for hot work permit.
As part of WSH requirements related to public and workplace emergency, it has been proven that a well-trained workforce not only reduces the risk of fire, but in the event of one, responds quickly and effectively to minimize the damage.
Target Audience
For workers or any site personnel to be appointed as a Fire Watchman when applying for hot work permit.
Course Entry requirements:
Able to read and write English
Course Details:
Responsibilities of Fire Watchman

Hot work

Basic concepts and behavior of fire

Classes of fire on the basis of extinguishing materials

Use of fire extinguisher to fight initial fire

Action to take when a fire breaks out

Action to take when workers are trapped in a fire situation

Action to take when evacuating from buildings

Fire Prevention
 Medium of Instruction: English
Duration: 2 Hours incl practice
Venue:  24 Woodlands Loop
Fee (before GST): S$75
Corporate Run: Minimum 8 participants
Certification:
FWTC Safety Certificate of attendance endorsed by AAT Training Hub Pte Ltd will be awarded to participants who successfully completed the course and passed the practical performance.
Certificate duration is 1 year.
Note: This is not an SCDF Emergency Response Team course.