This course introduces the basic concepts and processes for successful project management.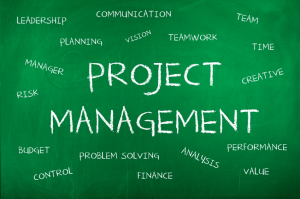 Explore proven best practices for defining, planning, organizing and executing a project.
Examination of the project life cycle will highlight the need for a phased-approach to project work with stage-gate approvals to ensure strategic alignment and effective project governance.
The learning materials and group exercises provide you with hands-on experience using the vocabulary, knowledge, and tools needed to properly define, plan, manage and successfully implement a project.
Special emphasis is given to the crucial up-front effort to clearly define, in consultation with key stakeholders, the project scope, the project's strategic value and expected results. Throughout the course, we'll examine and apply widely recognized project management techniques, tools and templates!
Duration: 1 day
Course Outline
Unit 1: Introduction to Project Management
What is a Project & Project Characteristics?

What is Project Management?

Project Management bandwidth and responsibility

Project Context

Project Stakeholders and their concerns

Brief overview of the Project Management Processes

Project Integration Management

Issues for the Project Manager and the Project Team Appreciation of present-day project management realities

Describing the Management Spectrum of People, Product and Services Processes Stakeholder issues
Unit 2: The Project Management Framework
Definitions and jargon associated with Project Management

The Project Management Context

Project Management Processes

Facilitating Processes

Project Integration Management
Unit 3: Project Scope Management
Project Initiation

Scope Planning

Scope Definition

Scope Verification

Scope Control
Unit 4: Project Estimation
Phases

Attributes for Size, Effort & Schedule

How to estimate – challenges, basis and tips

Overview of estimation techniques
Unit 5: Project Planning
The project plan as a basis of project acceptance

Prince II model for project planning

Pointers for Project Plan development

WBS

PERT/CPM Network development and usage (PDM/ADM)

Time & Cost Tradeoffs

Resource Planning

Planning Guidelines
Unit 6: Project Risk Management
Risk Management and it's associated processes

Types & Categories of Risks

Quantitative and Qualitative Risk Management

Prioritizing risk based on risk value

Risk Response Planning

Risk Reduction Strategies

Risk Monitoring & Control

Risk Case Study
Unit 7: Project Monitoring & Control
Purpose and importance of Project Tracking

Planning Vs Project Reality & Performance

Tracking & Control process

Project Review Baselines

Finalizing Tracking Requirements

Status Reports – Weekly, Monthly, Review discipline
Unit 8: Project Quality
Quality Planning

Quality Control

Quality Assurance
Unit 9: Human Resource Management
Team Structures – Functional through Matrix types

Organizational Planning

Staff Acquisition

Team Development

Leadership and Negotiation

Motivation Theories & performance drivers

Training Planning & Tracking

Managing Conflict
Unit 10: Project Costing
Cost Estimation

Cost Budgeting

Cost Control

Types of Project Costs

Types of Project Reserves

Earned Value (EV) Cost & Schedule Analysis
Unit 11: Project Communications Management
Communication Planning

Information Distribution

Performance Reporting

Information & Document Control

Administrative Closure